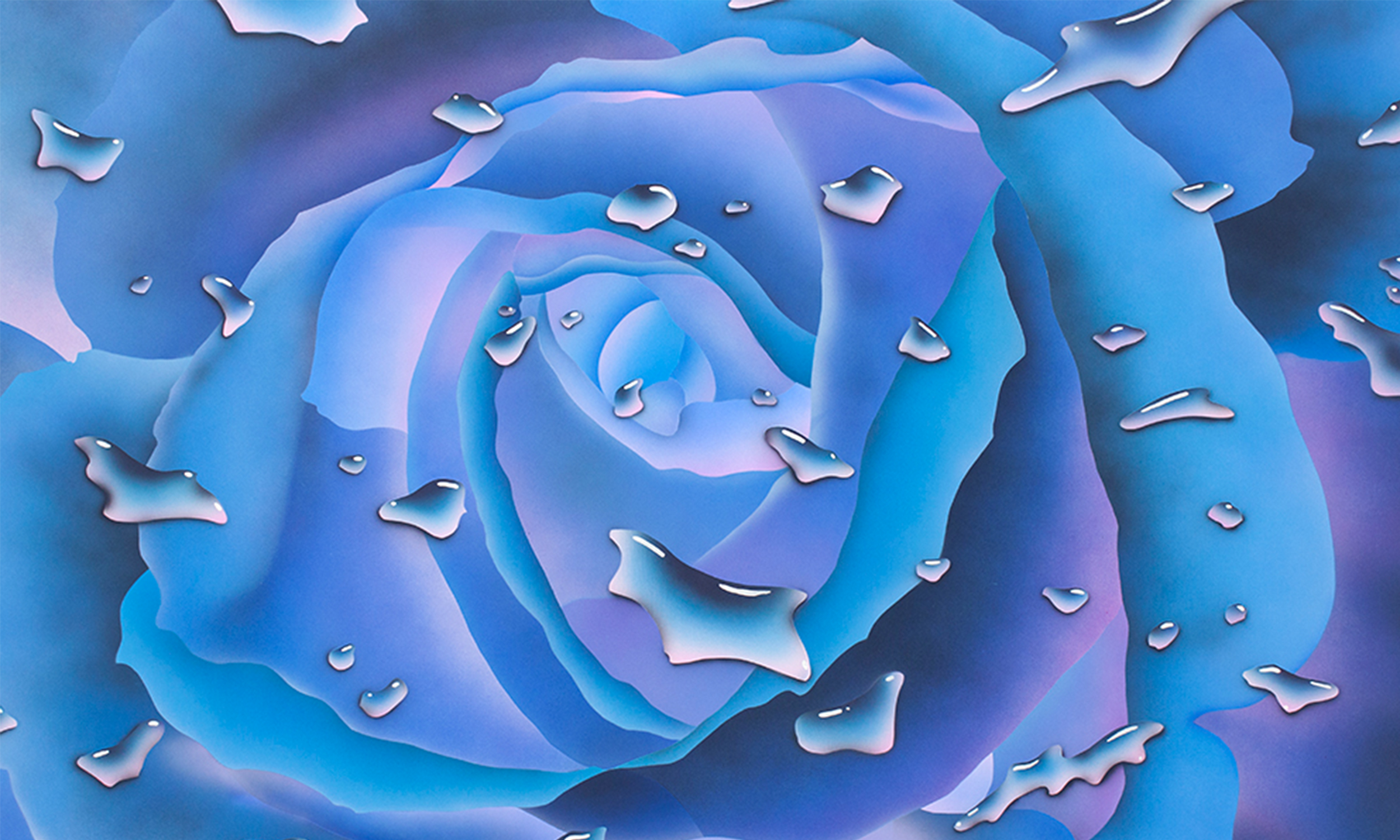 For immediate release:
Chaos and Wild Again by BRIAN WILLMONT
FEBRUARY 19 – MARCH 27
OPENING RECEPTION: FRIDAY, FEBRUARY 19TH, 6-9PM
Victori + Mo is pleased to present Chaos and Wild Again, an exhibition of new paintings by Brian Willmont. Combining aspects of trompe l'oeil and airbrush in a unique style of graphic abstraction, Willmont explores a pop culture aesthetic that permeates mainstream iconography. Symbols such as roses and water droplets become expressions of fragility and transient states, suggesting points of contention between the dark and light ideas embodied in each motif. The result is a surreal, near-hallucinatory vision of modern existence.
Beginning as multiple variations of digital compositions, the paintings in this series are transferred to canvas via stencils prepared with masking tape, allowing a crisp definition of color and lines in the tradition of Michael English and other airbrushing artists of the 1970s and 80s. Airbrushing allows for thin transparent layers and for the white of a gesso underlayer to augment and illuminate the colors. During this process, there is a natural evolution between the original sketch to the finished painting, a self-referential feedback loop in which the painting informs itself even as it is being made.
Presenting an evolution of his long-time preoccupations with symbolic representations of fleeting states—imagery of flickering flames, melting candles, urns and spider webs—Chaos and Wild Again advances Willmont's inquiry into the ephemeral nature of our human condition, particularly by addressing the experience of what it means to live in a digital world. Representations of glitches and distortions in paintings of mutated poppies and water droplets suggest the presence of a hidden screen between the viewer and the image, and test the limitations of living in a digital reality.
About the Artist
Brian Willmont (b. 1983) received his B.F.A. with High Distinction from the Massachusetts College of Art. His work has been included in exhibitions at The Hole (NY), Steinsland Berliner (Sweden), Castor Gallery (NY), Victori + Mo (NY), Park Life (CA), The Torrence Art Museum (CA), and has had solo exhibitions at Driscoll Babcock (NY), Field Projects (NY), Receiver Gallery (CA), Space 1026 (PA), LaMontagne Gallery (MA), Boston Center for the Arts (MA), and Aviary Gallery (MA). Brian is also the director and owner of Greenpoint Terminal Gallery. He lives and works in Brooklyn, NY.